Hok Gallery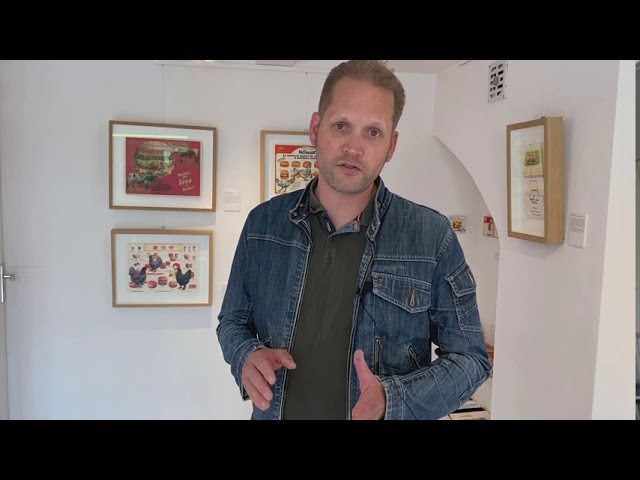 PLAY
25/09/2020 • 24/10/2020

I'm Lovin' It by Gurt Swanenberg

Fast food for discussion and wondering, close to the edge of ethical boundaries.

What is happening in HOK this Indian summer? Is it really so that Dutch 17th Century master pieces have been moved in from the Mauritshuis, which is only a 5 minutes' walk away? The tissues, the colors, the material; even the bull is there. The works on paper, on the other hand, may be a vintage MacDonald's bag or placemat from any time and any place. The 1980's, India. It takes a lot of patience to apply layer upon layer of acrylic paint on those bags, but there it is: the local brand of cattle supplying beef for the hamburgers, hyper-realistically executed. It's a man-made biodiversity. McDonald's to Gurt Swanenberg is a symbol of the consumption culture. Man creates animals to his own needs: the most milk, the best meat. A devastating agricultural overkill, the take-over of traditional tillage for the sake of cattle, meat and hamburger production, economical mass migration. The human race as a plague of locusts, appropriating commodities, using these up and then clear off. HOK's window is adorned by a gruesome piece of art which will give fast food for discussion and wondering, and which will bring you to the edge of ethical boundaries.
About Hok Gallery
HOK: home of contemporary underground. HOK is a tiny gallery at Mauritskade 77 in The Hague (The Netherlands). Right around the corner of the Denneweg. Every two months the whole floor is given to just one artist at a time. With her exhibitions, gallerist Angela van der Helm-Rookmaaker is going for the limit. Distorting art, preferably on the edge of against-the-grain underground pop culture. Music, film, comics or women's magazines: nothing wrong with transgressing a few boundaries now and then. Each exhibition is accompanied by a limited edition publication, dedicated to that one artist.
Mauritskade 77
2514 HH
Den Haag